410-207-8687
dianacantrelle@gmail.com
Concerts can be designed to suit your individual tastes and particular programs. They can be with solo voice, piano or I can add more singers, musicians, and skits for additional variety.
Demented Diva – Soir de al Comédie (Evening of Comedy)
In the tradition of Victor Borge & Anna Russell, I have good natured fun with the sometimes stuffy world of opera…featuring my own composition – The History of Opera in the Time it takes to Cook a Hamburger! Compliment – two singers and pianist.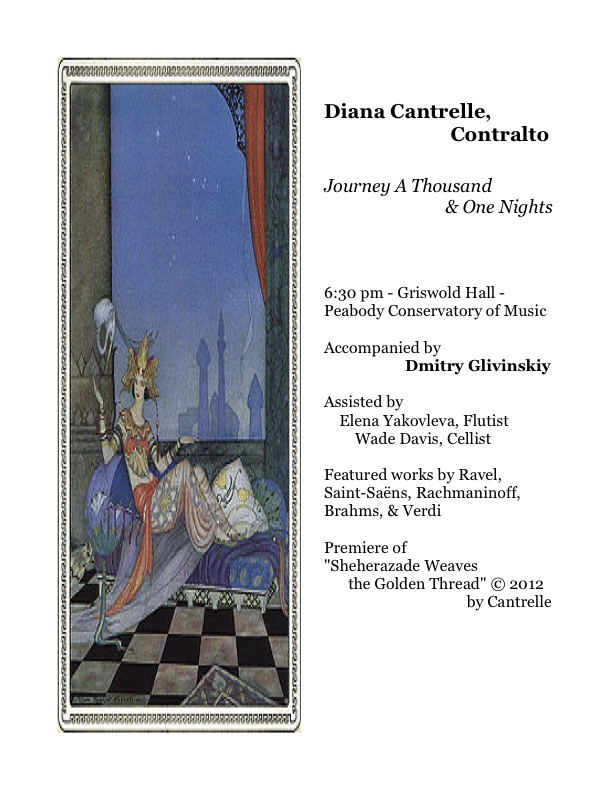 Passport of Love – A World Tour
Come bring the passport of your imagination, as we travel around the world in song from some of the world's most beloved music from opera, musical theatre, jazz and the big band era.
Vive la France – A Celebration of Music & Friendship
A delightful evening of some of the world's most delicious French repertoire, with selections from Carmen, Samson et Dahila, Faust, La Perichôle, and other favorites. Compliment – two singers and pianist.
Cheers for the Holidays!
Quartet of Singers (Soprano, Alto, Tenor, Bass) singing all your favorite carols of Christmas, Hanukah, and popular seasonal delights.
Witches, Bitches, Boys & Whores – The Music World's Favorite Naughty Divas!
Features selections from Carmen, Il Trovatore, Hänsel & Gretel, Man of La Mancha, Chicago, Le Nozze di Figaro, Tosca and more!
Carmen – Peter Brook – 1:20 minute version of composer George Bizet's amazing opera. Sung in French with English dialogue and narration. Compliment – quartet of singers and pianist.
Le Chat Botté (Puss in Boots)
1 hour opera for the young and young at heart, based on the Charles
Perrault 300 year old story. A quartet of singers and pianist tell beloved fable…where old world charm, meet New Orleans jazz. By Diana Cantrelle. Compliment – quartet of singers, narrator, and pianist.