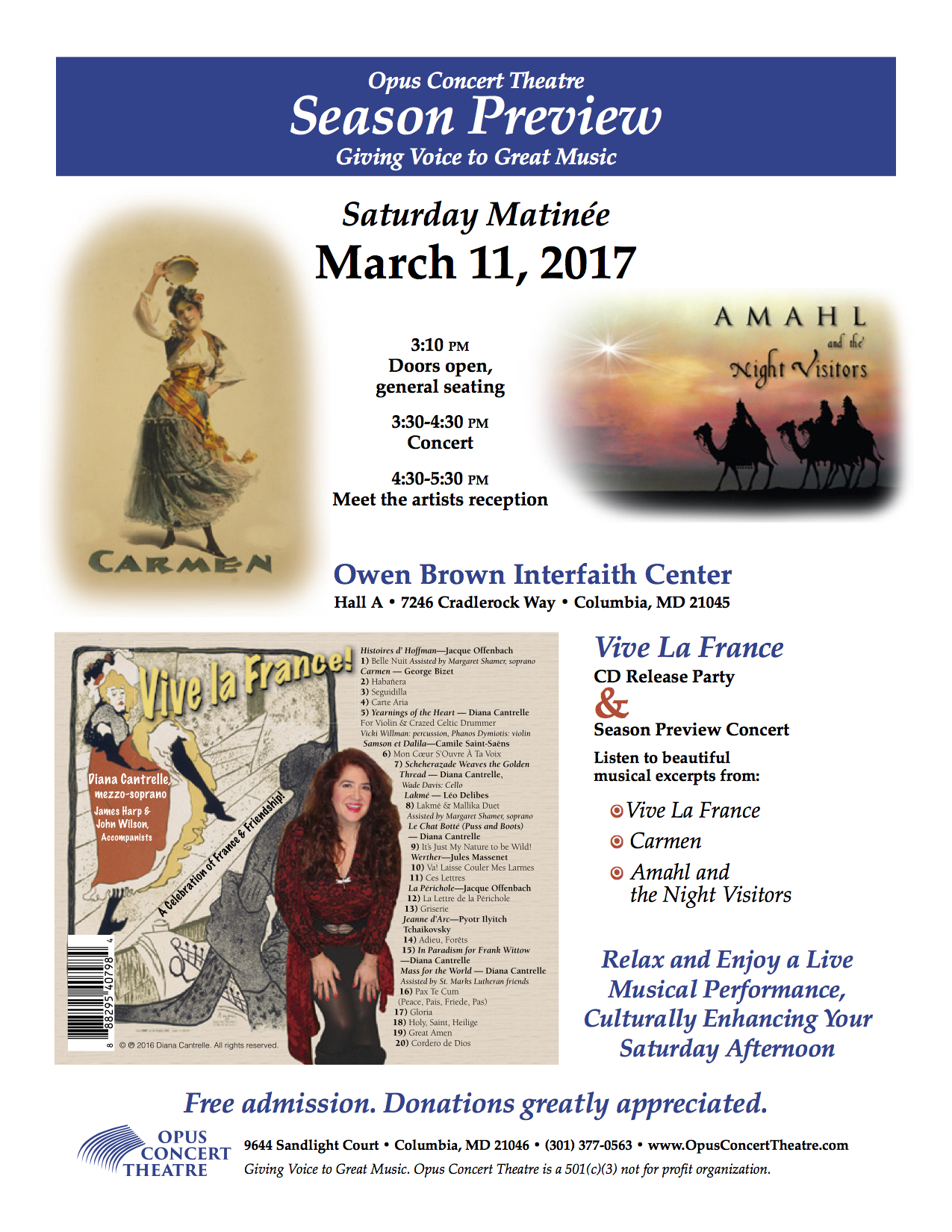 2017 will be full of exciting events:
Workshops:
1) Repertoire Classes
2)  Audition Workshop for Singers
3)  Broadway's Greatest Hits
4)  Opera's Greatest Hits
In 2016 – April – Opus Concert Theatre – Dido & Aeneas by Henri Purcell featured many Artemis Voice Studios Artists!
2017 – Opus Concert Theatre will present Carmen – Vive la Liberté!  and Amahl and the Night Visitors.  Opportunities for Artemis Voice Studio Artists.
Opus Concert Theatre 2017 Season Auditions:
Carmen – Vive la 
Liberté (Bizet/Cantrelle)
Don José, Corporal of Dragoons – Tenor
          Escamillo, Toreador – Bass-Baritone
          Micaëla, A Village Maiden – Soprano
          Frasquita, Companion of Carmen – Soprano
          Mercédès, Companion of Carmen – Mezzo-Soprano
          Le Dancaïre, smuggler – Baritone
          Le Remendado, smuggler – Tenor
The roles of Carmen, Zuniga, Moralès have been cast.
Rehearsals for Chorus begin in April, for Principles in May. 
Sung in French, Semi-Staged concert version with English dialogue. 
Performance dates – 11 June 2017 and 18 June 2017.
Amahl & the Night Visitors – Menotti – 
Roles available:  
Amahl – boy soprano or 
female soprano (pants role)
           Chorus – sings and some will be dancing.
The role of The Mother has been cast.
Fully Staged with Chamber Orchestra.  Rehearsals will begin in November 2017.  Must be available the week after Thanksgiving. 
Performances 30 November through 3 December.
Principle Roles – Stipend Pay
All Ethnicities and Ages Welcome!
Audition Dates are:
– 18 February 2017 from 12 noon to 4 pm
– 19 February 2017 from 1 pm to 4 pm
Requirements:  If auditioning for a Principle role in Carmen – sing something from the show or an aria in French.  Bring what you love to sing (3 pieces).   For Amahl – an aria in English.  May only hear one piece, so offer your favorite piece first.
Audition fee to cover room rental and pianist – $ 20 dollars, payable when your sign-in day of audition.
No housing provided.  Mid-Atlantic artists preferred. 
Howard County Center for the Arts
8510 High Ridge Road
Ellicott City, Maryland 21043

Come warmed up, may be able to find a spot to do a bit of a warm-up, but no official practice rooms.
Looking forward to hearing you!  
Come audition!  😀
xo,
diana