Fully-staged, sung in English accompanied by the Opus Concert Theatre Chamber Orchestra, we proudly present Gian Carlo Menotti's Amahl and the Night Visitors. A poor widow and her young disabled son, Amahl, are on the verge of starvation, when a knock at the door reveals Three Kings, each bearing gifts as they follow the star in the East. When Amahl and his mother learn the purpose of their journey, lives are changed forever. Each show includes an entertaining pre-show lecture, and a Meet and Greet the artists H'ors d'Oeuvres Receptions afterwards. Let us be a part of your Holiday Celebration. Three Venues, Five Performances!
All Tickets may be purchased on the Opus Concert Theatre website –
http://opusconcerttheatre.com/events/  or at the door.
Cast for Amahl and the Night Visitors 2019
Mother – Diana Cantrelle
Amahl – Alexandra Mercado
King Kaspar – Leroy Smith
King Melchior – Peter Tomaszewski
King Balthazar – Tim Kjer
Page – Thomas Schiller
Conductor – Maestra Anna Binneweg
Assistant Conductor – Maestro Isaiah Shim
Concert Pianists – Aejin Kim and Ellen Suh
Director – Kevin Crysler
Choreographer – Fen Han
Opus Concert Theatre Chamber Orchestra
Violinist – Xinzhi Xue
Violist – Daniel MacKie
Cellists – Shelly Monroe, Pavin Rajagopal
Oboe – Niall Casey
Sopranos
Elena Wenderoth – Section Leader/Amahl Cover/Featured Dancer
Yevgeniya Gnezdilova – Dancer
Emily Zimmer – Stage Manager
Alice Chen
Altos
Jasmine LaChaé – Dancer – Section Leader
Samantha Brocker
Tracy Lynge
Jill Pekofsky
Tenors
Lev Axler
Jeff Houston
Benjamin Walker
Basses
Dave Pumplin – Section Leader
Jered Wenderoth, Cover King Balthazar
David Smith
Thomas Schiller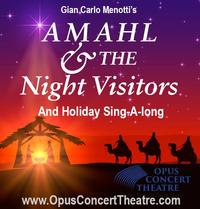 CALENDAR INFORMATION
Sunday, December 15
Seating at noon, performance at 1 pm, with concert pianist
Germano's Piattini (In Baltimore's Little Italy!)
300 S. High Street
Baltimore MD 21202
$20 for show, $35 for the gourmet Italian lunch.
Slayton House Theatre, 10400 Cross Fox Lane, Columbia MD 21044
20 December – 7:30 pm doors open /8 pm showtime
21 December – 7:30 pm door open /8 pm showtime
22 December – Matinee 2:30 pm doors open /3 pm showtime
4 January 2020 – Feast of the Epiphany –
New Hope Lutheran Church 1:30 pm house opens, 2 pm showtime – portion of proceeds benefit the music program at New Hope.
More Info and Tickets www.opusconcerttheatre.org $28 for adults, $18 for Seniors, Students and Children
In all venues- seating is limited. Advanced purchase recommended. 🎭
*****************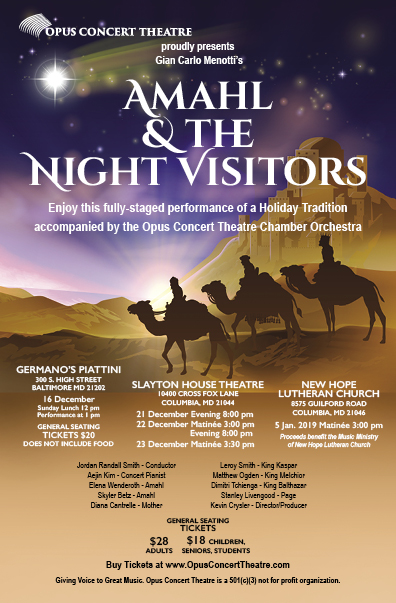 http://www.opusconcerttheatre.com
For tickets and additional information.